MPO/MTP cassette is a compact and rugged small unit, integrated with pre-installed adapters and MPO/MTP hydra cables inside the closure. It can be used alone or plugged into the MPO/MTP fiber patch panels. the cassettes are available in 12 fibers, 24 fibers and 48 fiber versions.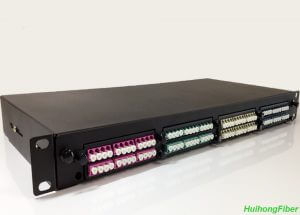 MPO/MTP fiber optic patch panels are made to meet the demand of high density fiber cable management products, it reduce space, reduce deployment time, easy to use and plug to play. our MPO/MTP fiber patch panels are from 24 fibers,  48 fibers,  till 144 fibers in a single rack.
Pen type fiber optic cleaners feature the one click push action, they are fast to work, portable for SC/FC/ST/LC/MU/E-2000/LX5/MPO/MTP connectors. Fiber optic cleaning cassettes are reel type devices that can quickly clean a variety of fiber connectors.